Our 60th Reunion!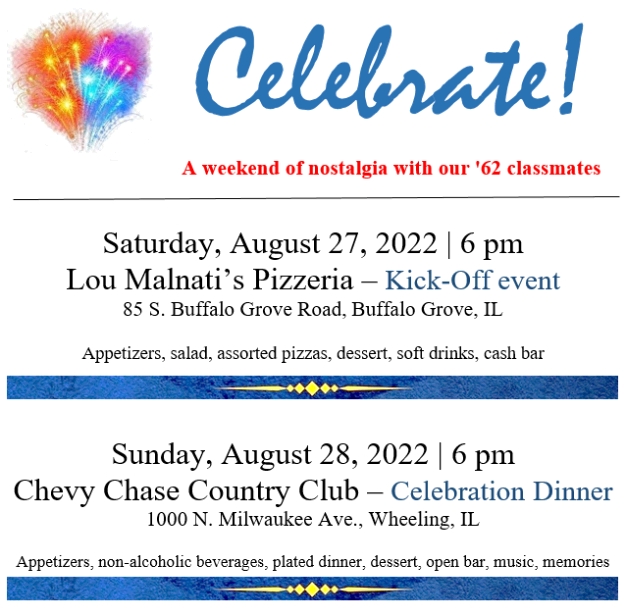 Click here to RSVP online!

Click here to print and mail your RSVP form.

Click the Reunion Details link on the left for the Westin Hotel information
---
Classmates, we need your help reaching everyone with no or new emails, addresses and phone numbers.
Notify your schoolmates to contact us if their profile information needs updating or they are on the Who's Missing list.
If you are interested in helping or are seeking classmate information, please contact Pat at or Barb at cell: 847-922-2299
60th Reunion Interest Survey
Results as of July 23, 2021 are:
| | |
| --- | --- |
| Yes | 89 |
| No | 26 |
| Maybe | 1 |
| TOTAL | 116 interested in a 60th reunion |
Zoom: There are 31 interested in online gatherings on Zoom, with 11 wanting a Grammar school one, and 29 wanting a High School one.
Date: There are almost equal numbers who preferred fall or mid-late summer. (Zoom meetings can be any time of year and we can do several of them.)
---
Please let Pat Fulkerson Larrabee, , know if your email address has changed in the last 12 months so you can keep getting our class emails.
---
On Nov. 13, 2012, thanks to our many generous class donors, our class gave $5,000 to the District 219 Education Foundation, Niles West, for student aid. "It certainly felt good knowing we were helping the needy students, especially when we heard about 1/3 receive funding for their lunches", said Barb Graff Dorfman.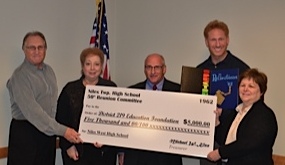 Shown right is the Foundation Treasurer, Barb Graff Dorfman, Mike Kiss, Chairman of the District 219 Education Foundation, and Betsy Shulman Katz.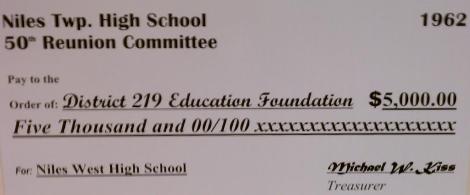 Click here for the In Memoriam list
---
PLEASE help us find more Missing Classmates (click here). If you know what town or state any of the missing people live in, what occupation they are in, have their email address, phone number or Facebook id, please let know.

---

---
Where we Live as of 6/25/2012 - Counts by State
---
We have a Veterans webpage to honor our classmates who served in the military. Please, all of our classmate veterans, list your service branch, rank, years of service, and other pertinent details in an email to , along with a photo of yourself in your uniform from those days.
---
July 26, 2022 - Latest stats on our class:

752 classmates are living.
157 classmates are deceased.
909 total in our class.

75 classmates are missing.

258 classmates and their guests came to the 50th reunion.
183 classmates came to the 50th reunion.
370 classmates have signed in and are on the Class Profiles pages. We have a very interesting class!
106 classmates have joined our E & W Facebook group for discussions about our reunions, etc.
---
See the Class Wills (East and West) and the senior edition of the two newspapers, West Word and Nilehilite to the Forum page. More reunion photos are captioned now, too.
Also added Notes on what we learned in the Niles West tour.
---
June 2014 Reunion - our 70th birthday celebration
Captioned photos are on the Photos page. Enjoy!

Event Co-chairs: Barb Graff Dorfman, Betsy Shulman Katz and Linda Levine Wiesmeyer.

Reunion Location was at Maggiano's
Old Orchard Shopping Center, Skokie
---
More Sign-Ins, comments and photos are always welcome! This website will keep going and growing, even after the 50th reunion.
---
See the 1960-61 Student Guidebook (pdf): This booklet has a page on the history of how explosively District 219 grew in our day and shows detailed floorplans of both Niles East and West, plus course offerings and lots more.